November 2021 Giveaway: (Congrats to: Michael B. & Justin B!)
We're giving away the Eventide Split EQ Plugin!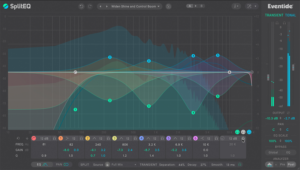 That's right, you can win this awesome plugin from Inside The Recording Studio & Eventide. Of course we expect you to jump thru some hoops in order to qualify for the random drawing. Then the winners will be announced on our show in December.
About the Split EQ:
SplitEQ is a parametric EQ with eight bands of precise, musical filters. What's new and different is Eventide's powerful Structural Split engine which divides the incoming audio into separate Transient and Tonal streams that feed the eight bands. This approach makes common EQ problems easy to solve even in a complex mix and opens up exciting new musical possibilities. https://www.eventideaudio.com/SplitEQ
SplitEQ Features:
World-class 8-band parametric EQ with precise musical filters
Equalizes Transient and Tonal parts of a sound separately using Eventide's patented Structural SplitTM technology
Controls Transient and Tonal Output levels
Enhances the stereo field with continuous Transient and Tonal panning controls (L/R and Mid/Side modes)
Innovative real-time spectrum analyzer displays the Transient and Tonal streams independently
Controls for the underlying Split technology for fine tuning and experimentation
Globally scales the EQ curves together or independently
Has Peak, Notch, Bandpass, High-Shelf, Low-Shelf, Tilt Shelf, High-Pass, and Low-Pass filter types with slopes from 6 to 96 dB/octave
Includes a comprehensive library with over 150 presets
A/B buttons allow quick auditioning of two presets or settings plus Undo/ Redo functionality
Graphical user interface with zoom options and can be re-sized
You're thinking to yourself: What do I need to do in order to qualify for the drawing?
There's only one way! You need to be signed up and confirmed on our email list* [required – don't worry if you're already confirmed you're automatically entered].
We will close the giveaway Dec 5th @ Midnight PST. After that time, we'll randomly choose two listeners from our email list.
We will announce the winners on the podcast. We'll notify the winner via email as well. That way the Split EQ license can be sent to the winner. [if you don't respond in 7 days, we will choose another winner]
Good luck and may you enjoy your audio recording journey!
* if you do not confirm your email address (which is required due to GDPR stuff), we can't confirm you for the contest. Thus if you sign up and do not receive the confirmation email reach us via the contact page to inform us of the issue. That way we can double check the signup and make sure you get confirmed. We'd hate for you not to get a chance to win this awesome device.
**** Winner will be responsible for any local taxes or VAT.