April 2021 Giveaway:
We're giving away the Eventide Black Hole Plugin!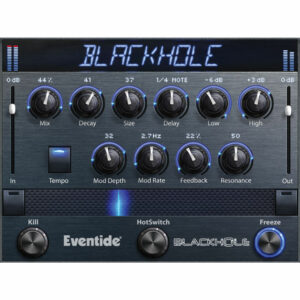 That's right, you can win this awesome plugin from Inside The Recording Studio & Eventide. Of course we expect you to jump thru some hoops in order to qualify for the random drawing. Then the winner will be announced on our show the first week of May 2021.
You're thinking to yourself: What do I need to do in order to qualify for the drawing?
First, you need to be signed up and confirmed on our email list* [required – don't worry if you're already confirmed you're automatically entered]. (1 point)
Second, you should post on one or more of your favorite social media services with the following hashtags (#ITRScontest #EventideBlackHole). (1 point per Twitter, 1 point per Instagram, 1 point per Facebook).
Third, you should follow or subscribe to our YouTube channel, Twitter, Instagram, Facebook. (1 point per follow / subscribe).
We will close the giveaway April 30th @ Midnight PST. After that time, we'll tabulate how many points you get. After which you're entered in a random drawing based on all eligible entrants.
We will announce the winner on the podcast. We'll notify the winner via email as well. That way the Black Hole can be sent to the winner.
Good luck and may you enjoy your audio recording journey!
* if you do not confirm your email address (which is required due to GDPR stuff), we can't confirm you for the contest. Thus if you sign up and do not receive the confirmation email reach us via the contact page to inform us of the issue. That way we can double check the signup and make sure you get confirmed. We'd hate for you not to get a chance to win this awesome device.
** The max amount of points you can get are 8. That equals 8 entries into the contest.
*** We need to tie your email to your YouTube and/or social media account(s) in order to get you your points. So make sure you tell us.
**** Winner will be responsible for any local taxes or VAT.